Accusys T-Share LTO
Interested in producing a multicam shoot for Netflix? Click here to see how T-share LTO fits in Netflix workflow.
T-Share LTO
The World's First and Only Shareable Thunderbolt 3 Storage with LTO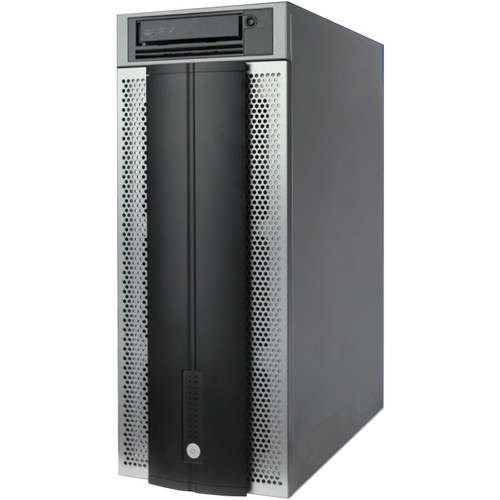 Thunderbolt 3 Storage + LTO
T-Share LTO combines 11-bay disk array and 1 LTO drive in a tower system. On-line editing and off-line archiving can all be done in one single box.
You can do color grading while make good use of the outstanding performance of T-share at the same time sharing your files with foley artists, VFX editors, and sound mixer, just to name a few. When you are done with the job, there is no need to move the files to another machine but use the same unit to archive the cold data you don't need for now.
It is simple and easy, and not to mention that the data transferring can be done with excellent speed, thanks to Thunderbolt 3 tech.
11

 

bay




SATA and SAS

hot-swappable drive tray




supporting 2.5"/3.5" HDD and SSD

2600

 

MB/s




Storage Performance

300

 

MB/s




LTO 7 Performance

1

 

LTO

LTO 7: Read – LTO 7, 6 and 5, Write – LTO 7 and 6
LTO 8: Read – LTO 8, 7 and 6, Write – LTO 8 and 7
SAN and DAS ready
T-Share LTO has 4 Thunderbolt 3 ports and 1 PCIe port for you to configure it as Storage Area Network (SAN) when integrated with SAN software. It allows for 4 Thunderbolt clients and 1 PCIe client to share content. This works perfectly well for small editing groups.
Or, you can simply partition the storage array into several storage volumes as direct attached storage (DAS) with immense capacity.
To Expand Even More
You can connect 1 T-Share LTO and 1 A12T3-Share together via their PCIe ports to acquire 23-bay disk array & 1 LTO drive and to have up to 8 clients sharing the data pool. Moreover, its capability goes beyond that. For larger work group, with the help of Thunderbox, you can even expand the whole workflow to 1 T-Share LTO and 3 A12T3-Share to have up to 16 clients.
A Cost-effective Option to Archive Your Data: LTO Tape
When it comes to data management strategy, there are lots of things that need to be considered: cost, space, format, data safety, etc, and LTO tape can be a straight and reasonable solution to them.
Long-term Archive: If kept in appropriate conditions, LTO tape has 30 years shelf life.
File System Compatibility: LTO tape is written in LTFS format, which is compatible with both mac and Windows.
Cost-effective: In terms of space and expenses, moving your data to LTO tape surely can make room and save you money compared with HDD or SSD.
Data Safety: LTO Tape is less sensitive to mechanical damage, and a lot less vulnerable than HDD or SSD.
LTO tape has numerous advantages. Wanna keep your data safe and organized? You'll be satisfied with what T-Share LTO brings you.
Bundle Solution with Archiware P5 Archive Desktop Edition
P5 Archive is a media archiving software and a long-term storage solution that moves or migrates data offline to disk, tape & the cloud. You can monitor files, folders and the directory structure to archive files automatically. In the process, server storage can be reclaimed while backup times are reduced. By relieving your network of traffic, you'll get a better working experience and increased productivity. Moreover, P5 can be set up within minutes, and works cross platform on various operation system, you can restore data on any platform since P5 stores it in a platform-neutral format. It helps you to keep your data safe and organized. For more details visit https://p5.archiware.com/products/p5-archive & https://p5.archiware.com/solutions/video-archive.
We are excited to announce that T-Share LTO and P5 Archive Desktop Edition are now offered as a bundled solution. Users can get both the storage and the software as a package for an attractive price. Contact your local reseller for more information!
Technical Specifications
System Type
11-bay Tower RAID system
Interface
Thunderbolt 3 * 4
PCIe 3.0 *1
LTO Drive
LTO 7 or LTO 8
Data Transfer Rate
Thunderbolt 3: 40 Gb/s
QSFP: 32 Gb/s
Disk Interface
SAS / SATA * 12
Disk Type
3.5″ / 2.5″ / SSD
RAID Level
0, 1, 5, 6, 0+1(10), JBOD
Cache Memory
2G DDRlll 1866 with ECC-protected
JBOD Expansion
JBOD * 3
T-Share Expansion
Thunderbolt 3 * 8, JBOD * 6
RAID Controller Functions

Online RAID Set Expansion and RAID LEVEL Migration
Online bad block data recovery and reallocation
Online disk scrubbing with data refresh and parity
Disk health monitoring by S.M.A.R.T
Array Roaming and Drive Traveling
Mirror Snapshot for fast backup and restore
Disk Lag Proof Technology to guarantee disk timely response
Equalization Mode to smooth the performance of sequential I/Os and reduce large fluctuation

Management

Java-based RADIGuard X GUI
Event log saving in text file for quick troubleshooting
Event notification by email (SMTP)
LED indicator for RAID & disk drives status in front
400W (Single or Redundant). 110V~240V power supply
Two 12cm x 12 cm Fan with Smart Fan Control feature

Physical
L: 369mm, W: 175mm, H: 475mm/ 18.6 kg